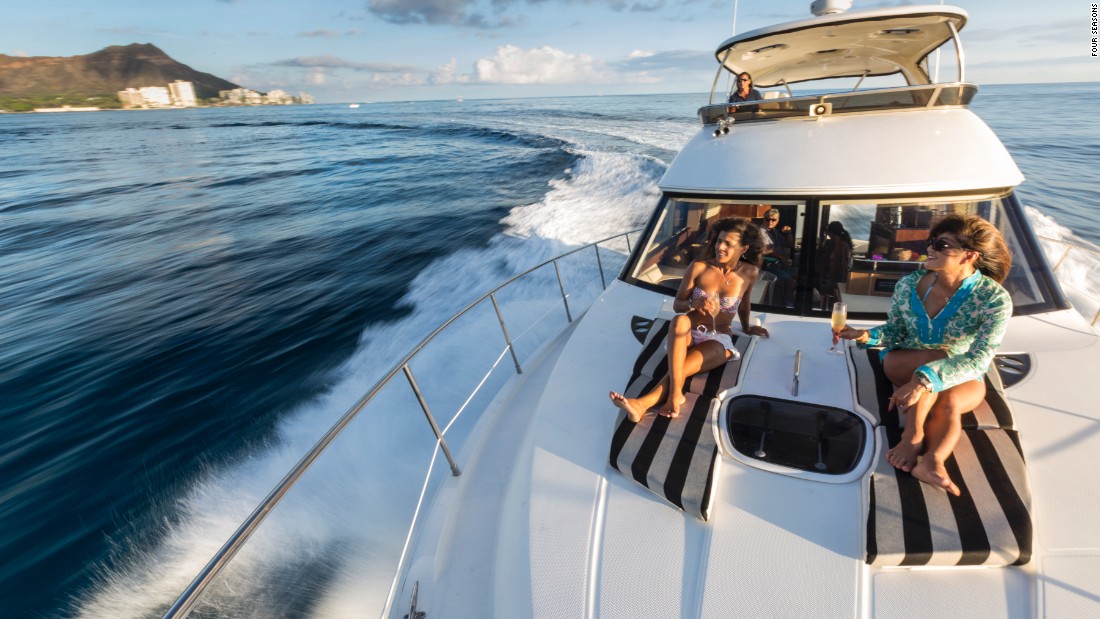 (CNN)You name it, it can almost certainly be arranged.
Breakfast with a giant octopus? A private dinner from Wolfgang Puck's team, served in your 6,000 square-foot compound? A chopper to give you a head start on a hike — or a better view of a volcano?
When money is no object, the sky is truly the limit when it comes to unique experiences, accommodations and frankly ridiculous levels of luxury.
Here are some of the United States' most extravagant and exclusive vacation options for those ready to make a serious investment in getting away.
Naturally, this 750 square-meter property boasts sweeping views toward the Aspen Highlands, but the facilities and interiors may keep you cozied up inside.
Along with six bedrooms, there's a private terrace with a huge hot tub, fire pit and al fresco dining, while the gym, pool table and wine room will also help keep guests distracted.
As the host, you'll want to make sure you nab the master bedroom with its fireplace and private deck.
With that kind of outlay, it's no surprise that vacationing in the Aloha State doesn't get much sleeker.
Although Mercedes-Maybach and helicopter transfers are one option, the 75-foot Four Seasons yacht may be the best way to arrive before you disembark to check into the Presidential Suite.
The yacht boasts a private Sky Terrace where you can sleep out under the stars, but only after a 7-course dinner with Cristal and wine pairings at the chef's table presided over by executive chef Martin Knaubert.
A private seaplane takes you first to Mount Rainier National Park for trekking, caving and elk, black bear and coyote spotting with guides around the 14,410-foot peak with its stunning meadows, waterfalls, forests and valleys.
After overnighting in luxury near Seattle, you fly up to Mount St. Helens to visit the sleeping giant that shook the world with its 1980 eruption. The lava dome, crater and pumice plains should all be visible.
New England leaf peeping rises to an eye-opening new level with this four-night experience with Kimpton Hotels.
Feel like you need a bit of your own presidential pampering this election season? That's where your own 6,775 square-foot Presidential Suite compound comes in.
A two-night package includes an hour-long couple's massage on your patio and a private dinner for 10 catered by none other than Wolfgang Puck's culinary team.
A jacuzzi and a grand piano should help keep you entertained the rest of the time.
A personal encounter with a giant Pacific octopus is one way to kick off a day to remember.
Thereafter you have a wholly private tour of the world-renowned aquarium, which houses more than 35,000 animals and plants.
While you can choose from a number of elegant suites, the expansive Amangani Homes really bring the outdoors in with living spaces and bedrooms featuring views from all angles.
The four- and five-bedroom freestanding houses are outfitted with the amenities and design features you'd expect — from hot tubs to media rooms.
World class alpine and Snowcat skiing, horseback riding, biking and fishing are amongst the options on your doorstep, while Yellowstone National Park is only an hour's drive away.
Source: http://edition.cnn.com/