Australia news live: Victoria records three new Covid cases; PM refuses to give in to Facebook news ban | Australia news
[mycbgenie_banner_ad banner_size="728x90" kws="automatic" hide_footer="0" tracking_id=""]

22:56
Australia's retail trade up by 0.6% in January
Updated


22:30
News Corp executives have promised to make enquiries into concerns aired during a Senate inquiry that Sky News presenter Lauren Southern had promoted the "great replacement" theory.
The Greens senator Mehreen Faruqi said during questioning that Southern had produced a viral YouTube video in 2017 on the great replacement – the claim that white people were subject to an orchestrated "Great Replacement" by means of non-white immigration.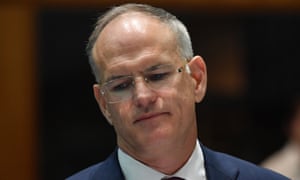 Speaking under the protection of parliamentary privilege, Faruqi added: "I'm wondering why News Corp has on its payroll a person who promoted a conspiracy theory that ended up inspiring the Christchurch terrorist."
Michael Miller, the executive chairman of News Corp Australasia, said he was not familiar with the video.
Miller said while he was in favour of free speech, there was "no place for hate speech" and he would take the question on notice.



What you are suggesting does concern me.
Later in the hearing, Faruqi asked if Miller's enquiries "prove Lauren Southern did promote the great replacement theory which inspired a terrorist who killed 51 innocent Muslims, will you take this person off your payroll?"
Miller said:



I'd be considering it. I'd have to discuss it and understand the issue, but if I could take that on notice as well – I have to understand the issue. It concerns me what you've said and I take it very seriously.
Updated


21:56
The South Australian government has been rocked by a Liberal MP's shock resignation in the early hours of Friday when he announced he was being charged by the state's anti-corruption body.
The office of the Independent Commissioner Against Corruption confirmed on Friday it had formally charged Fraser Ellis, the member for Narungga, with 23 counts of deception, relating to 78 fraudulent claims over the alleged misuse of a travel allowance totalling more than $18,000.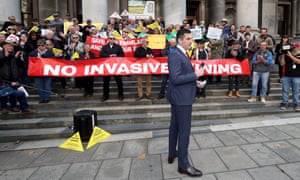 The details were revealed in a statement by the commissioner, Ann Vanstone, after Ellis rose in state parliament at just after 2am to announce that he had been charged.



It will be alleged that between 13 May 2018 and 12 June 2020, Mr Ellis made 78 fraudulent claims for the Country Members Accommodation Allowance, totalling more than $18,000.

The Country Members Accommodation Allowance is available to Members of Parliament whose usual place of residence is more than 75 kilometres from Adelaide, and who are required to stay in Adelaide overnight to attend to Parliamentary or other relevant duties. It will be alleged that Mr Ellis claimed the allowance for nights he did not spend in Adelaide.
His resignation plunges the Liberals, led by the premier, Steven Marshall, into minority government, though Ellis is expected to continue to provide support from the crossbench.
Read more:
Updated


21:38
A few extracts from exchanges from the Senate media inquiry that's continuing in Canberra:
Why are some politicians fearful of Rupert Murdoch?
Michael Miller, the executive chairman of News Corp Australasia, "That's a question for them."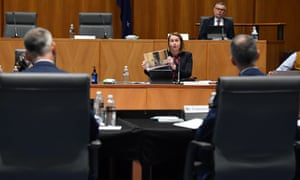 Why does Rupert Murdoch summons future PMs to his residence in New York?



He doesn't summons future PMs."
Why do leaders of both major parties visit Rupert Murdoch in NY?



You'll have to ask them those questions."
Has Rupert Murdoch ever spoken to you about his political views?
"I haven't spoken to Rupert in months," Miller replies, adding that the pair had spoken about the politics and economics of Australian but "we don't make it a regular conversation".
Campbell Reid, a News Corp group executive and long-time editor adds:



Very occasionally you'll get a phone call or a contact from Rupert and he'll overwhelmingly be asking to understand something that's occurring in the country.
Updated


21:31
Brisbane siege ends, man taken into custody
Updated


21:23
Tasmania lifts quarantine rule for Victorians
Updated


21:13
News Corp executives have denied that their organisation engages in "character assassination" as argued by Kevin Rudd at the Senate media inquiry.
They have also accused Rudd and Malcolm Turnbull of blaming News Corp for their own political failures.
The chair of the committee, Greens senator Sarah Hanson-Young, asked whether News Corp accepted Rudd's comments that there was an "organised coalition between the Murdoch empire and the carbon lobby" against climate action.
Michael Miller, the executive chairman of News Corp Australasia, said that was "an assumption and position put by others".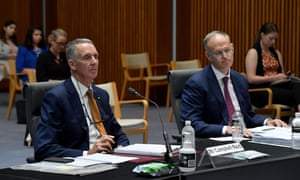 Miller said Rudd and Turnbull had chosen to blame Murdoch for their failure to persuade their colleagues and parliament of sensible climate policy, which he described as a "convenient diversion for their own failings".
Miller accepted, however, that "Australians expect more from companies" when it comes to taking climate action and he had explained to staff that "we need to do more in this area".
Hanson-Young asked whether the rejected the claim News Corp engaged in character assassinations.
Miller said the real issue was "trolls" and "nameless people" on social media who did not back up statements of claim. Miller said:



I'd say that character assassinations if there are any out there are happening on social media, and I've felt that first hand … I disagree with the word assassination. We ask tough questions.
Hanson-Young asked about the meaning of the Herald Sun headline "Dictator Dan".
"That he's telling Victorians how to live … and Victorians weren't happy about it," Miller replied, noting that Leigh Sales of the ABC had asked Daniel Andrews about his handling of Covid-19 at a press conference this week.
Hanson-Young asked if it was Twitter trolls that went after the former Australian Human Rights Commission head, Gillian Triggs.
News Corp's Campbell Reid replied:



It's not character assassination to closely examine the actions of people in public life. I think at that time Gillian Triggs' actions were supported by many people and questioned by many people … I regard that as tough scrutiny, I don't regard that as character assassination.
Updated


20:21
Shortly after Kevin Rudd finished giving evidence, News Corp executives fronted the media diversity inquiry to argue that "democracy is messy" and relied on "the robust and open exchange of news, views and opinions and a recognition that all people have a right to hear a range of views".
Michael Miller, the executive chairman of News Corp Australasia, said:



On any given day you will hear people on the ABC highly critical of the views of people on News Corp platforms and those people will be firing back. This is not democracy failing, this is democracy working.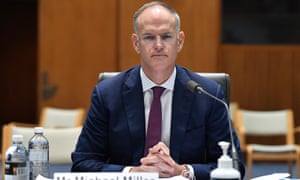 Miller contended that it was outdated to look at the media market through print figures, as Rudd did. Miller said sales of print newspapers had declined sharply and all established media companies have had to follow their audiences online, adding that "we are living in the most diverse news media marketplace in Australian history".
He said the list of the top ten news websites in Australia "paints a picture of diversity, not monopoly", with audience numbers biggest for the ABC followed by Nine News and then News Corp's news.com.au.



The top 10 sites include three sites operated by Nine, two from News along with the sites of The Daily Mail and The Guardian, Seven News and Australian Community Media.
Miller said the Senate's media diversity inquiry was itself "evidence of our nation's embrace of free speech" – before taking a dig at Rudd.



A former prime minister's objections to News Corp that mobilised his social media followers too is in large part why we are here. I respect the former PM's right to hold his views. I suspect the problem might be that he only respects the views that agree with his.
Miller also rejected concerns about News Corp's political influence, arguing election results showed the newspapers did not necessarily have the impact the critics say:



If the sloganeering had any truth the governments across the country would be the ones that editors decide are best and people would sing from one tune on the big issues. The absolute reverse is true.

Australia has nine federal, state and territory governments. Four are Coalition. Five are ALP. The latest Newspoll has the Federal ALP and Coalition sitting at 50 per cent each.

What this says is Australians are smart people. They make up their own minds about what media they consume, who they back politically and what they feel about the big issues.
Updated


20:14
Brisbane siege enters a second day
Updated

[mycbgenie_text_ad kws="automatic" show_product_descr="1" default_font_family="1" fill_color="ffffff" link_color="0000ff" border_color="dddddd" rows=1" cols="3" descr_color="000000" hide_footer="0" tracking_id=""]