Coronavirus live news: annual vaccine may be needed, says J&J chief; Spain tops 3m cases | World news
[mycbgenie_banner_ad banner_size="728x90" kws="automatic" hide_footer="0" tracking_id=""]

19:30
More on Venezuela's announcement it will begin a vaccination roll-out next week.
From AFP:
The first 100,000 doses of Russia's Sputnik V vaccine will arrive in Venezuela next week, the South American nation's President Nicolas Maduro said Tuesday.
"When the vaccination process begins, we are going to vaccinate all medical personnel, all health personnel in Venezuela," Maduro said in a televised address.
"The most vulnerable sectors, and then we will vaccinate the teachers."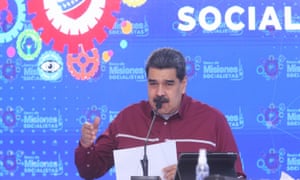 The shipment represents just one percent of a total of 10 million vaccines that Russian authorities have agreed to send impoverished Venezuela.
With 30 million residents, Venezuela has recorded more than 130,000 cases of Covid-19 and more than 1,240 deaths, though international groups have questioned the accuracy of the figures.

19:05
We had this story in our earlier blog coverage, but it bears repeating: a little bit of joy amongst so much awful news.
A French nun who is Europe's oldest person has recovered from Covid-19 after it swept through a nursing home in the south of France, and will celebrate her 117th birthday this week.
Kim Willsher reports:

18:57
To Australia, where your correspondent sits, and Victoria, the state hardest hit by Australia's comparatively limited Covid-19 outbreaks.
AAP reports:
More Victorians have been forced into isolation and another review of the state's hotel quarantine system is underway after two new cases of Covid-19 were linked to a Holiday Inn at Melbourne Airport.
A food and beverage worker and a returned traveller tested positive on Tuesday after an authorised officer working at the same hotel tested positive on Sunday.
The returned traveller had tested negative several times during her stay, which ended on Sunday. She got tested again on Monday after learning of the outbreak.
The woman did not leave home other than to get tested and only one primary close contact has been identified so far.
The food and beverage worker worked on the same floor as the returned traveller and was identified as a close contact of the positive authorised officer.
Victoria's Chief Health Officer Brett Sutton said the three Holiday Inn cases were likely linked to a floor with known Covid-positive guests.
That includes a family of three, one of whom has been transferred to intensive care.
Professor Sutton indicated the infected workers and former guest appeared to have picked up the virus from the family, despite having no close contact.
"Cases can happen anywhere, at any time, and they can happen without a breach of protocol or any particular errors being made," he said on Tuesday.
"We are talking about an incredibly infectious virus. We have known that airborne transmission is possible."
Health officials are investigating ways to better protect hotel quarantine workers and guests.
"All I can say is bring on the vaccine," Sutton said.

18:51
Hello, and welcome to a new liveblog, and our continuing coverage of the global coronavirus pandemic. My name's Ben Doherty, typing these words in Sydney, Australia, thank you for your company. Correspondence and comments are always welcome, you can find me at ben.doherty@theguardian.com or @BenDohertyCorro on twitter.
To begin, a summary of global developments:
People may need to get vaccinated against Covid-19 annually for the next several years, Johnson & Johnson chief executive Alex Gorsky told CNBC on Tuesday, due to mutations to the virus.
Venezuela will receive the first 100,000 doses of Russia's Sputnik V coronavirus vaccine next week, President Nicolas Maduro said on Tuesday.
Brazil has reported 51,486 new coronavirus cases, as well as 1,350 deaths, the health ministry said on Tuesday.
In London, Lambeth council is asking some residents to take a coronavirus test after the variant first identified in South Africa was detected in the local area.
The Athens region will enter a stricter coronavirus lockdown from Thursday, Greek prime minister Kyriakos Mitsotakis has said, with schools and non-essential shops closed.
Spain has now recorded more than 3 million Covid cases, while also registering 766 deaths over the past 24 hours – the highest daily death toll of the current third wave.
Two new Covid variants, one of which has been classified as a "concern", have been identified in England with some similarities to the South African and Brazilian variants, a government advisory scientific committee said.
The Navajo Nation's vaccination rollout continues to surpass the broader United States, Al Jazeera reports, having distributed 94 per cent of the doses it has received.
Ireland is likely to gradually emerge from its strict lockdown between April and June with outdoor dining and domestic tourism likely to be possible during the summer, deputy prime minister Leo Varadkar has said.
Ghana's parliament has suspended most of its activities for three weeks after at least 17 MPs and 151 staff members were infected with the coronavirus, the speaker Alban Bagbin has told the country's parliament.
eSwatini health minister Lizzie Nkosi has said that her country, which borders South Africa, would no longer use AstraZeneca's Covid-19 vaccine.
Argentina has announced it has approved the emergency use of the Indian-made Covishield vaccine, AFP reports.
Equatorial Guinea has said it would impose a curfew for the first time, limit flights and reintroduce other restrictions after cases of coronavirus rebounded in the West African country, AFP reports.
[mycbgenie_text_ad kws="automatic" show_product_descr="1" default_font_family="1" fill_color="ffffff" link_color="0000ff" border_color="dddddd" rows=1" cols="3" descr_color="000000" hide_footer="0" tracking_id=""]