[mycbgenie_banner_ad banner_size="728x90" kws="automatic" hide_footer="0" tracking_id=""]
Two men have been arrested and charged with assaulting Brian Sicknick, the police officer who died after Trump supporters stormed the US Capitol on 6 January in support of the former president's attempt to overturn election defeat by Joe Biden.
Julian Elie Khater, 32, of Pennsylvania and George Pierre Tanios, 39, from West Virginia, were arrested by the FBI on Sunday and expected to appear in federal court on Monday.
They were charged with assaulting Sicknick with a "toxic spray", thought to be bear spray, which Khater was allegedly seen discharging into the officer's face in footage of the riot. It is not yet known if it caused Sicknick's death.
Sicknick, 42, was one of five people to die as a direct result of the assault, which Donald Trump incited when he told supporters to "fight like hell" in his cause. The officer died in hospital on 7 January. A police statement said he "was injured while physically engaging with protesters" and "returned to his division office and collapsed".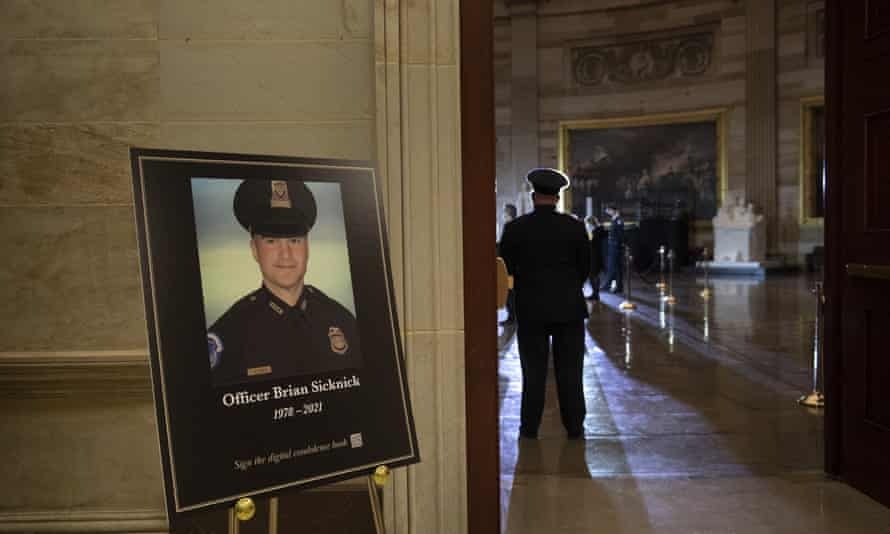 [mycbgenie_text_ad kws="automatic" show_product_descr="1" default_font_family="1" fill_color="ffffff" link_color="0000ff" border_color="dddddd" rows=1" cols="3" descr_color="000000" hide_footer="0" tracking_id=""]