[mycbgenie_banner_ad banner_size="728x90" kws="automatic" hide_footer="0" tracking_id=""]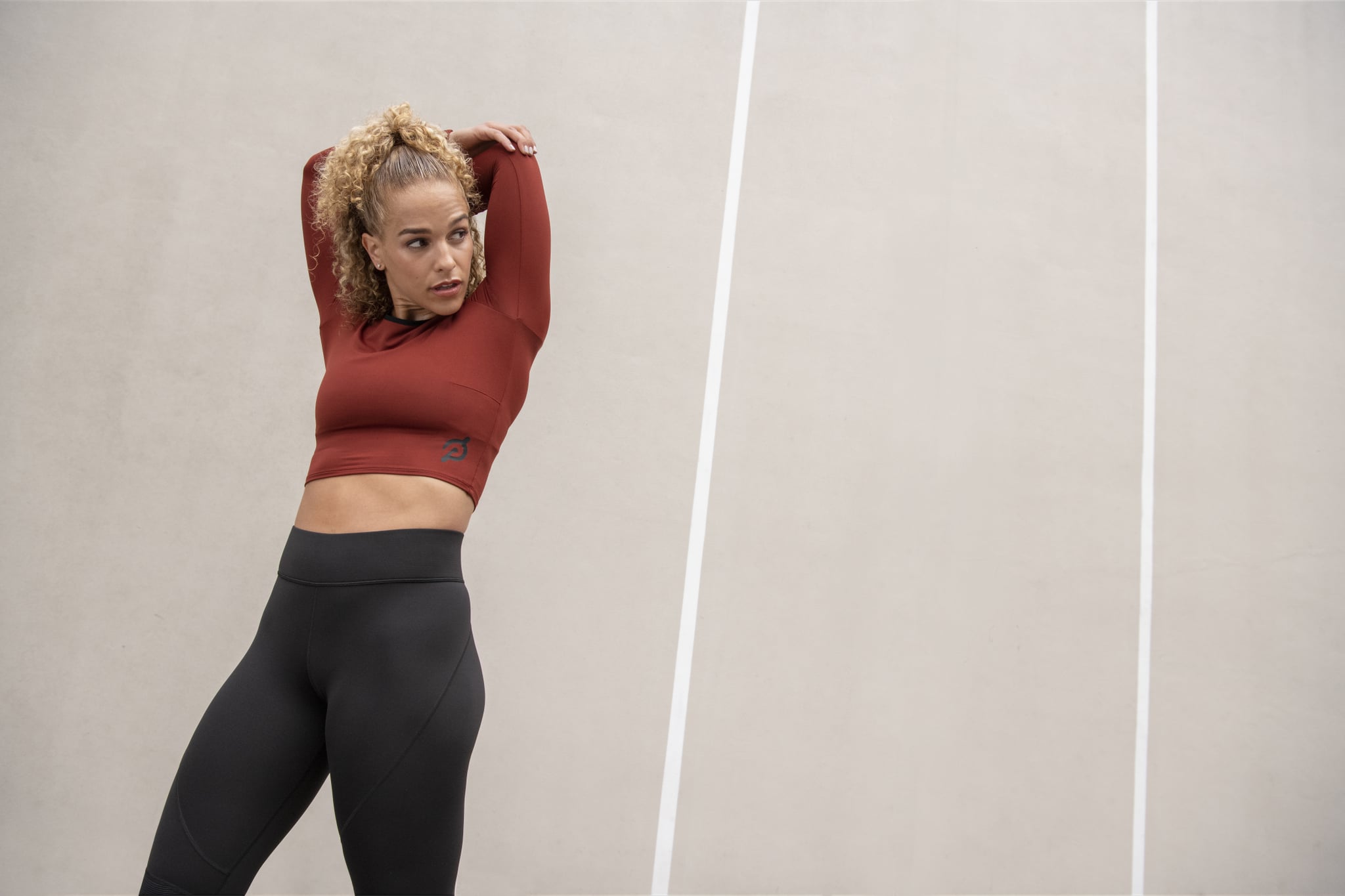 Image Source: Courtesy of Peloton
Peloton instructor and NASM-certified personal trainer Jess Sims practically grew up on the basketball court wearing Reebok Iversons — and the Reebok love runs in her family. Her dad, for instance, has an impressive collection of Reebok classics (they're "vintage," she says). Sims is Reebok's newest brand ambassador, and the role, to her, was a long time coming.
Reebok has been there during pivotal points in Sims's life. Aside from supporting her athleticism as a young and, later, collegiate basketball player, she worked with the brand when transitioning from her career as a teacher into the fitness world (in fact, one of the first major fitness modeling gigs she booked was with Reebok). And now, established as a kickass Peloton instructor — the queen of Flash 15 and Saturday 60 classes — her brand ambassadorship begins.
Sims doesn't work with just any brand — no, really, she doesn't — and this role is natural for her. Authenticity, fearlessness, and the idea that fitness is for everybody are a few of Sims's values that align perfectly, she noted, with Reebok's mission. "They asked me what I wanted to see in a partnership, and I said, 'Listen, I want to be able to be myself. I want to embrace my inner athlete,'" she added. "'And, it's really important to reach three distinct communities: women, children, and the Black community.' The smiles on everyone's faces on the Reebok call is something I'll never forget." Watch her announcement video ahead.
Though Sims doesn't have her favorite pair of Iversons anymore, she remains a hardcore Reebok sneaker fan. For Peloton classes, especially Bootcamp sessions, Sims said she prefers the new Reebok Nano X1. The fact that the shoes come in a variety of colors that match her on-screen wardrobe is a convenient bonus aside from the key boxes she looks to check off for a performance shoe: comfort and support.

How Sims feels about Reebok is how she felt about Peloton when she became an instructor in 2018. Both brands are big on creating a team atmosphere, which is something she lost after her basketball career ended. "This, to me, is just broadening my team," she said. "When you wear, proudly, the name of your team on your chest, on your back, on your arm, it gives you a sense of pride and a sense of even on your darkest day you're not alone." Both brands, she explained, do that for her.

Of the Reebok partnership, Sims noted, "I'm so, so honored, and I'm so, so excited. There's going to be huge things coming, and I just can't wait."
[mycbgenie_text_ad kws="automatic" show_product_descr="1" default_font_family="1" fill_color="ffffff" link_color="0000ff" border_color="dddddd" rows=1" cols="3" descr_color="000000" hide_footer="0" tracking_id=""]