Wales 21-16 Ireland: Six Nations 2021 – as it happened | Sport

12:35
Congratulations to Wales on a well-earned and much-needed win. Thanks for reading and emailing in today – Round 2, next week, will bring England v Italy, Scotland v Wales and Ireland v France. See you then for more Six Nations action. Bye for now.

12:27
Wayne Pivac speaks: "We made it hard for ourselves didn't we? … I'm very very relieved but very happy … we'll take that win any way we can, and push forward to Scotland next week. You often see it don't you, the man advantage, you just drop off a few per cent … we let Ireland back into the game … it was a question of righting the ship in the second half and we did that today. We'll look at our wounds in there, we've got a six-day turnaround [before Scotland], so that doesn't help.
On George North playing No 13: "We were comfortable putting him into the midfield."
"It's about the campaign, this is day one, we look forward to going to Murrayfield.

12:23
The BBC are picking over the key moments of the match, including that lethal finish by Louis Rees-Zammit. "Sometimes playing on the wing, you get one chance, and you've got to take it," says Martin Johnson. He certainly did that.

12:15
Ireland's Johnny Sexton on that Burns missed kick for touch right at the end: "As a 10, you've got to go for it … I've done the same thing, in this corner. Sometimes you miss, sometimes you get it and you are the hero, but you've got to go for five metres, because that would have given us the chance to score.
"We regathered really well [after the red card], I'm proud of the boys, proud of the effort, I'm proud of the position we put ourselves in … it came down to a few mistakes at key times and a couple of decisions … I felt a couple of the decisions at the end went against us. Wales are a good side, we only have ourselves to blame, we spoke about discipline earlier in the week and that let us down."
Updated


12:09
Man of the match, Wyn Jones, speaks: "It was a nail-biting last few minutes for us but it's nice to get over the line in the end … We just had to win today. It's key in any tournament to start with a bang … Sometimes it's tough to play against a team with 14 men … I think we were on top until that moment and maybe we eased off a bit."
The captain, Alun Wyn Jones: "When you pull this on [the Wales jersey] there is always pressure. But after the autumn we had, there was particular pressure … we won't shy away from that … Credit to Ireland, that [the sending off] probably galvanised them in the middle part of the game. We'd like to think we can finish more off with the possession we have, but we've got our foot in the door at the start of this competition."
Updated


12:08
Full-time! Wales 21-16 Ireland
Billy Burns goes for touch, right in the corner, as Ireland have another penalty deep into stoppage time … but he kicked it dead! That's a shame for the neutral and for Ireland fans, because that could have been a stunning finale. It was a bizarre decision by Davies, the Wales scrum-half, to kick the ball away with 10 seconds left. But they got over the line, and Wayne Pivac will be absolutely relieved and delighted to record the fourth win of his tenure and get the Six Nations off to a winning start. Ireland rallied incredibly well after the red card for Peter O'Mahony in the first half, but unsurprisingly, it looked like Wales's numerical advantage began to tell more in the final quarter.
Updated


12:04
82 min: Ireland get it right at the lineout and they move through several phases, without making too many inroads. They are still in their own half … but then there's a dash down the right wing! Tipuric has to make a crucial tackle … Ireland win another penalty … but Burns kicks it dead!
Updated


12:02
80 min: With 10 seconds to go, Gareth Davies chose to put in a grubber kick, which has given Ireland the chance to run the ball back … Weird decision by Davies. But Ireland's counterattack breaks down … but it's a deliberate knock-on by Tompkins! Ireland have another chance! They kick the penalty for touch, and will have time to have the lineout, and one last attack.
Updated

[mycbgenie_banner_ad banner_size="728x90" kws="automatic" hide_footer="0" tracking_id=""]

12:01
79 min: Ireland try to spin the ball right. Tompkins rushes out of the line for Wales and manages to spoil the ball, while not making a clean tackle. Welsh scrum. Just 20 seconds left …

11:59
77 min: The clock ticks down, with Wales tantalisingly close to an opening win in the 2021 Six Nations. Wyn Jones is awarded the man of the match award by Jonathan Davies of the BBC. Ireland have the ball, and Gibson-Park makes another dart in midfield.
Updated


11:55
74 min: Ireland have their tails up, and they rumble a rolling maul into Welsh territory. James Lowe then tries to burst through on the crash ball, nicely teed up by Gibson-Park. Defending to do for Wales and nervous times. Burns, the replacement No 10, tries a cheeky kick from hand looking for Larmour out on the right wing, but it's overcooked and goes out into touch. Up in the stands, coach Andy Farrell holds his head in his hands – he clearly feels that was the wrong option – and you can see why – Ireland were starting to build some pressure.
Updated


11:52
72 min: Penalty! Wales 21-16 Ireland (Burns)
Ireland are back to within one score, Burns hitting a fine penalty from inside the 22. Gibson-Park is on for Ireland at No 9. Can they shrug off their one-man deficit and win this? It would be a huge result in the overall context of the championship, if they can.

11:49
70 min: Ireland have a scrum in the Wales half. Robbie Henshaw is playing as a back row, which is odd. Ireland win another penalty deep into Welsh territory.
Rowlands, Brown, Sheedy and Jones are on for Wales. Larmour and Kilcoyne are one for Ireland, and Burns is back on for that HIA to Sexton.
Updated


11:45
69 min: It was accidental, but the Ireland fly-half Sexton took a nasty blow to the head there as he carried the ball into contact. As he fell over, he hit his head on Tipuric's knee. Sexton doesn't look happy, but he should be taken off here for an HIA. And indeed he is going off.
Updated


11:43
67 min: Tipuric is pinged at a breakdown. Sexton misses touch with the resulting penalty, but Ireland soon have the ball back, and move it through a few phases of play in the Welsh half, but now Sexton looks to have gone down injured.

11:41
65 min: Penalty! Wales 21-13 Ireland (Halfpenny)
From the attacking lineout, Alun Wyn Jones grabs the ball and rumbles forward with a powerful carry. Beirne is penalised – perhaps harshly – for coming in at the side as Wales look to recycle possession. Halfpenny knocks over the penalty. Daylight on the scoreboard for Wales and Wayne Pivac will be feeling a little happier.

11:37
63 min: Wales look stronger and more confident after that try. A high kick goes up into Irish territory, and the scrum-half Conor Murray is penalised for obstruction while Rees-Zammit tries to run on to it. Wales kick for the corner. Can they crank it up even more on this Irish defence? Henshaw is back on after the HIA, Burns goes off.
Updated


11:31
59 min: Try! Wales 18-13 Ireland (Rees-Zammit)
The TMO checks it, but it's a fantastic finish by the 20-year-old. There was a glimpse of space in the corner and the Irish defenders were rushing over to cover. Furlong, who has just come on, is the nearest man for Ireland and perhaps that's a bit of a mismatch. Rees-Zammit, with a look of utter determination, sprints for the short distance to the corner and dives full-length to touch the ball down one-handed. No chance of being shoved into touch – brilliant skill. Halfpenny converts.
That all came from an attacking lineout for Wales, which they nearly made a mess of, but just won the ball and the pressure on the Irish line became too much. Good work Wales.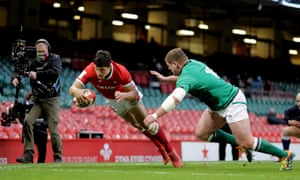 Updated


11:28
55 min: Keith Earls, the Irishman, takes out Wales full-back Leigh Halfpenny in the air. Wales can try and build something here. They have front-foot possession as we approach the final quarter of the match. Will the extra man start to tell a little more in the final 20 minutes?
Updated


11:26
54 min: Billy Burns, the Ulsterman, comes on for Ireland with Henshaw off for an HIA. Andrew Porter goes off with Tadhg Furlong on.
Meanwhile, here is a dog enjoying 'Land of My Fathers' a bit earlier.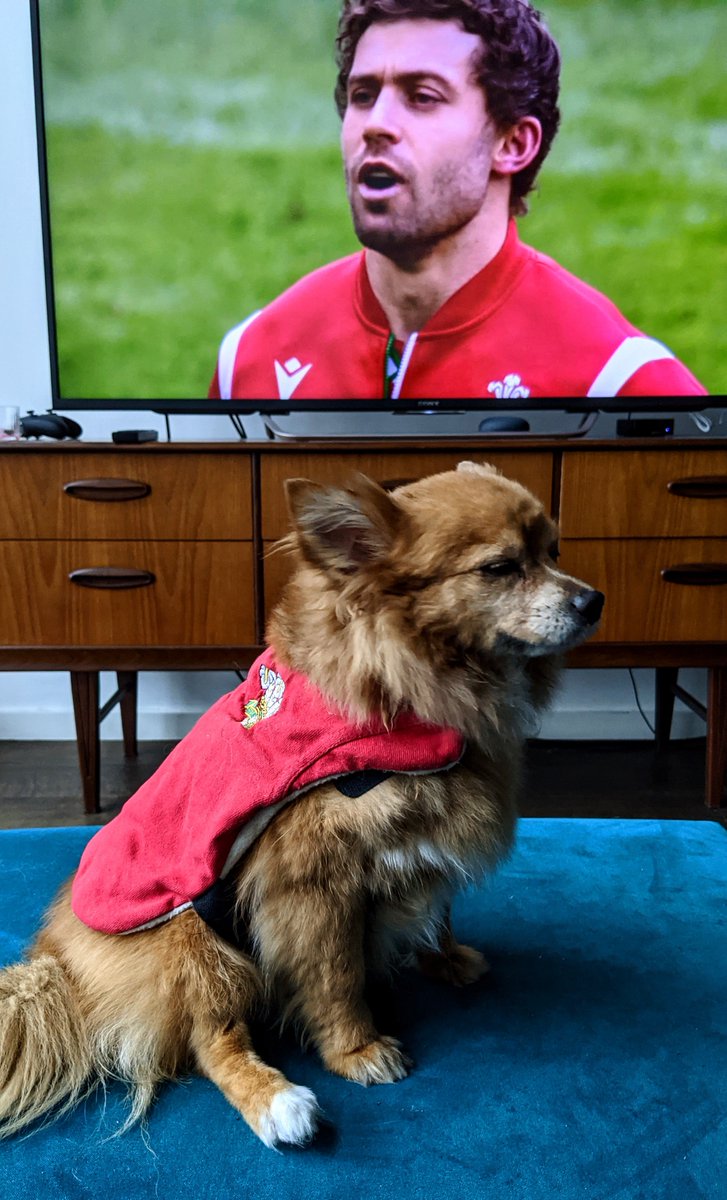 Updated


11:23
53 min: With two points in it, it feels like we could be building to a really exciting finish. Ireland have generally been very impressive, aside from O'Mahony's recklessness. How relieved will O'Mahony be if Ireland can come away with a win here? Conversely, how much flak will Pivac take if his side can't put away 14 men?
Updated


11:21
52 min: Dean Kinsella emails in: "Surely Ireland can't keep up this level with a man short! Wayne needs to level it up by expelling a Welshman. But, in all honesty, Wales aren't looking all that clever."

11:19
48 min: Try! Wales 11-13 Ireland Try! (North)
It's Big George North! Ireland simply dropped the ball in trying to run it out from their own 22. It broke down, Davies made a dart, then a beautiful pass by Navidi releases North, who chucks a dummy and arrows over. Halfpenny misses a tricky conversion.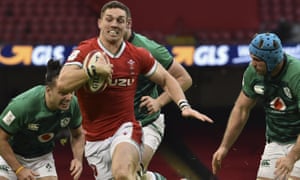 Updated


11:17
46 min: Wales do get the lineout right, at least, but are then driven back in contact around the Irish 22, with Andrew Porter to the fore for the visitors. Faletau knocks on. Irish scrum on their own 22. Wasted opportunity for Wales, more imprecision, and Pivac will be getting more and more frustrated with this. What do you think, Wales fans?
Updated


11:15
45 min: Rob Herring takes down Hallam Amos with a high tackle. Biggar kicks the penalty for touch. Can Wales get the lineout right?
Updated


11:14
44 min: More possession and territory for Ireland. They do not look like the team that is playing with 14. Sexton, yet again, puts up a high kick but it's easily marked by the Welsh defence. Wales kick, Ireland kick … Wales kick again, Ireland kick again. There's a theme developing.
Updated


11:11
43 min: Wales try to get some momentum with some phases in the Irish half, but cough up a penalty for coming in at the side of a ruck. George North needs a bit of treatment after accidental contact with his eye in a tackle from Keenan.
Updated


11:08
Second half kick-off!
Here we go. Can Wales get back on terms? Tomos Williams, the Wales No 9, has gone off injured and Gareth Davies is now on. In the first half, Nick Tompkins came on to replace Johnny Williams, for an HIA.
Updated


10:53
Half-time! Wales 6-13 Ireland.
Thinking to do for Wayne Pivac and Wales. They have made 113 tackles to Ireland's 43. Ireland have shown more precision in attack, their kicking game has been better, and they have generally been on top at the breakdown for the past 20 minutes. No one can argue with Peter O'Mahony's red card, after he led with his shoulder into a ruck and contacted Tomas Francis's head. But Ireland did not let that faze them, and they have been the better side since. A fascinating first half – see you in a few minutes for the second.
Updated


10:49
36 min: Try! Wales 6-13 Ireland (Beirne)
It all started with another massive, massive kick by James Lowe which found touch on Ireland's left wing. That gave Ireland some field position. Wales got the resulting lineout wrong. Ireland found themselves with the ball and on the front foot again. Henshaw created the score with a fine burst into the 22, veering towards the left wing and ghosting past a would-be tackler. He offloaded to Van der Flier, who nearly got over the line but was just held up. Tadhg Beirne then grabbed it scored. Wonderful stuff from Ireland. Sexton adds the extras.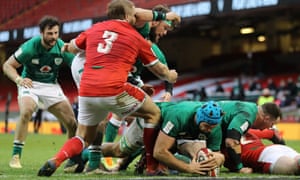 Updated


10:47
35 min: Penalty! Wales 6-6 Ireland (Sexton)
If Wayne Pivac was hoping for a relatively comfortable win following that red card for Peter O'Mahony, it seems like Ireland have not read his script. We are all square.
Updated


10:46
34 min: Penalty awarded to Ireland, just inside the 22, after the Wales centre George North goes off his feet trying to get a turnover.
Updated


10:45
33 min: Ireland have made 42 tackles, Wales have made 100, points out Jamie Heaslip on commentary. That shows you how well Ireland have adjusted, despite O'Mahony's moment of madness.
Updated


10:44
32 min: Liam emails: "I'm a Munster man so it hurts to admit it, but Peter O'Mahony is becoming a liability, his passion more often than not misplaced these days. From a selfish perspective we've an awful 50 minutes or so ahead of us, but of more significance is the damage he could have caused with that tackle. If that's what it was. Would love to be a fly in the dressing room at HT to see what Paul O'Connell has to say to him."
Updated

[mycbgenie_text_ad kws="automatic" show_product_descr="1" default_font_family="1" fill_color="ffffff" link_color="0000ff" border_color="dddddd" rows=1" cols="3" descr_color="000000" hide_footer="0" tracking_id=""]